February 8, 2016
Had a fine day yesterday. Really enjoyed our afternoon at Morning Glory.  The old timers among us were greeted with warm hugs and lots of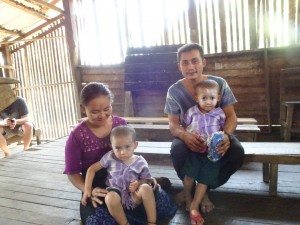 happiness. The school itself is bursting at the seams with close to 400 kids there in a variety of tickety tackety buildings.  We had fun doing a Valentine craft with the grade 2's and we were touched to see how much they treasured their little heart shaped mouse. When they stood up to sing or move about at all, their mouse was clutched tightly. Not taking any chances on leaving that behind!  Each student also got a treat of cookies and a drink. Smiling, smiling!  No word of complaint or comments about not liking their selection here.
Our team members that went to the teaching hospital site arrived in one piece and according to Dave were in high spirits and excited to start their task. That's a blessing in itself!
We were actually chilled last night. It went down to 10 degrees!   Sounds like we will be at about 31 today  (yay) but the overnight temperatures will continue to be quite cool.
We are off to Rocky Mountain 2 school with 2 bags of shoes about the size of a small truck so that should be fun. Who knew we should have bought socks as well. Also will visit Mae Tao Clinic and deliver about 60 maternity packs there.
Erin Yeo
February 12, 2016
Just got back to the hotel 3:30 pm after a night at the hospital in Burma. As usual, the comforts of hot water, clean sheets and the pool are a welcome sight to us. We are not as good as the local people with bathing under a tap out in the open!
The day we arrived at Kawkareit we went to a small village school with a huge supply of shoes (flip flops) for the kids there. Turns out it was National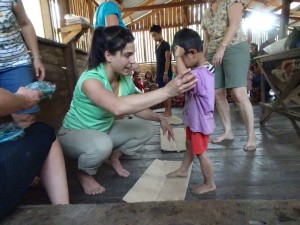 Day in Myanmar so, no school. Okay we say, no problem, we'll just go into the village and do the shoe distribution from there.  We found the head man with Zaw's help,then explained what we wanted to do. Sure enough, first couple of pairs went to him and his wife. Kids were hanging back, peaking out at us until they realized what was going on.  Suddenly pandemonium. Kids of all sizes, and adults of all ages, everyone wanted shoes. Most of the kids were barefoot so there was a level of excitement I have not experienced before. We must have fit 150 or more, when we realized we were running out of time. In the end we just left a big pile if various sizes with the head man and he was going to see about getting them looked after.
We had lunch at the hospital site and then piled back into trucks,and headed out to a little place called Third Village. It took about 30 minutes to get there, with 3 or 4 water crossings and a lengthy stretch bouncing over the dividers on a huge rice paddy. I guess I should add that harvest was complete!  Finally we reach our destination. Found the little school, quite a nice little building , up on stilts, with a rather sturdy ladder for entry. We thought it made sense to use the school for our crafts and games. Zaw rounded up a few kids and then more and more came. We had planned for about 36 kids , but in the end with all the little ones, plus mom, dad and the grandparents we were probably around 100 or so. Shy,oh my, painfully so, and some quite frightened of us. Without a doubt, we were the first contact with white people that they had ever had. We started with shoes for the little ones. Some of the toddlers were so scared of us that they cried. We fitted shoes. Until we ran out and then started with crafts. The little boys started painting wooden trucks and the rest of the group were busy making bead bracelets. By this time the shyness was wearing off and the kids were eagerly, with intense concentration painting their trucks. It was obvious that none of them had ever so much as held a paintbrush before. It was quiet as they focussed on their work!  Everyone else loved the beads and soon the whole village was sporting bracelets.
Finally every child had a new pair of shoes, there were brightly painted wooden trucks and cars everywhere as well as new beaded bracelets. We climbed down out of the school and as the villagers followed we had suckers for one and all. Woohoo!
Everyone was smiling now and we felt like we had made new friends, and I'm sure they felt the same way. Everyone wanted to shake hands, even the tiny ones who had cried when getting their shoes!
What a day!  When dark fell, we loaded into trucks again. I took my turn standing in he back, not that I minded at all now that the sun was down. We slipped through the cooling evening towards the town of Kawkareit. Lots of bats in the air above us.
The town it's it has a population of about 30,000 or so. Zaw had booked us into a restaurant called Legends, apparently a Chinese restaurant. We had to take our shoes off before going upstairs.  Not a bad meal.
Finally back to the hospital site where we bedded down for the night.
Lots more to tell, but I will close here and  carry on tomorrow
Erin Yeo
February 14, 2016
I wanted to continue where I left off at the hospital site in Kawkareit. Didn't sleep a who,e bunch that night, there was a cacophony of sounds from the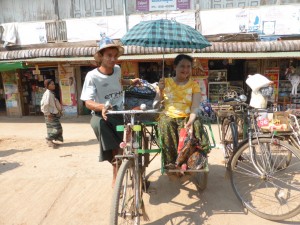 various snorers in the room. When I did wake from a fitful snooze it was just barely dawn. From where I lay, I could see the silhouette of a massive tree outside the door. It was stark yet beautiful. I didn't want to wake anyone by moving around the room so I lay still and and quiet until suddenly the delicious smell of bacon cooking made me realize someone was up!  We had breakfast and tidied up then took our spare blankets to the tiny huts that have sprung up around the building site.  These little bamboo huts with leaf roofs are the homes of the building crew. Their wives and families move with them from one job to another. The ladies were very sweet and more than happy to accept the gift of blankets from us.
Zaw arrived a little later and we headed into a morning market. This little city takes you back in time. Although we were there to see the sights and sounds, it soon became very clear that we were quite a source of amazement. People gaped and giggled. Some quite openly and some peaking around corners of buildings. Some people called out hello as we walked past them. There was everything you might expect at a typical morning market, food of every description, chickens, dead and alive, plucked or not. There was spices and fruit, bolts of cloth, peanuts, pillows, blankets, and bras. As I walked past one stall, a lady called out to me, "very beautiful!"  I laughed and so did she. Such an interesting place. As we walked by a very small old gentleman, I remarked to Heather, "Now that's an interesting face!"  Wouldn't you know it, he stopped and came over to us and started up a conversation in pretty darn good English!
We got back to the truck ahead of some of the team so we decided to try some of the fabulous watermelon that was stacked in huge piles across from the truck. Yummy!  the entire experience was a wonderful one.
All too soon it was time to cross the border. This drive took about 90 minutes over very winding steep roads. We left our team of electricians and specialists still working hard to get the solar installation done.
Erin