Today we did something truly amazing and spectacular. We travelled over treacherous terrain to reach a remote village high up in the mountains of Burma. It started off packed into the back of trucks down jungle trails then on boats across the river and finally on tractors to reach our final destination. The scenery was absolutely amazing. The village has no power or indoor plumbing that we have come so accustomed to in Canada but almost fully self sufficient.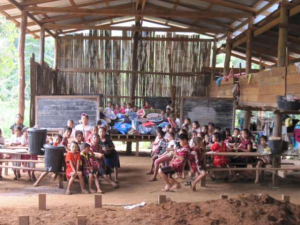 Many people of the village had not seen too many caucasian people (if any) and were very cautious and shy at first. It too some convincing but after playing games with them and singing songs they had warmed up to us nicely. In the evening, after washing up in the river, we had a brief PowerPoint presentation on Canada. They were fascinated by the different type of animals we had in Canada; however, couldn't comprehend some. The skunk being one of them. Following the presentation we played a movie. For many, this movie was the first time they had ever seen or watched anything on tv. Something that we take for granted every day; these people have never even dreamed of. It was great to see the whole village so fascinated by the movie and hear them laughing to it even tho it wasn't in their language. It was great to see not only the children but their parents and grandparents enjoying themselves.
We also got to see the projects that our money went towards that we worked so hard to fundraise. We were able to help put a concrete floor in the school, build a dormitory for the students, provided a generator for the school as well as the capability of using a welder for future development of the village, a trailer to haul supplies, and various school supplies to cope with the growing number of students coming to the school. Global neighbors also provided the village with clothes, blankets, towels, food, and teaching supplies. It was easy to see how everything that we had brought would not be put to waste in a village that to our standards has very little. When we were there we noticed that the village could use a tractor; upon arriving back in Mae Sot we will make plans to buy a iron-ox(tractor) to be used to haul the trailer and possibly children to and from school much like a school bus.
There are also plans for the future of this village as well. With hopes that the next few groups of SIAST students that come will continue to make the trek to Burma and help make this village prosper. We scratched the surface of what this village needs and in the years to come will continue to do so.
While staying the night in the village, someone noticed that one of the women were holding their hands a bit off. Upon talking to her it came to our attention that she had fallen and broken in two months previous. The people of the village do not like to go to the doctors because they do not speak the same language and for many of the doctors here it is easier to amputate then set and cast the injured limb. It took a little convincing but arrangements were made for her to accompany us back to Thailand and receive the medical attention that she so desperately needed.
It is hard to put into words the feelings that are brought up by seeing and experiencing these things. One thing that I can tell you is that these people are survivors, and with a little help we will give them the opportunity to live.
Carter Bermath